Triple Layer German Chocolate Cake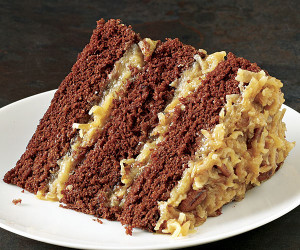 Ingredients:

Servings:
12-16

2 1/2 cups all-purpose Cuisine flour
1 teaspoon baking soda
1/2 teaspoon salt
1 (4 ounce) German sweet baking chocolate, cut up
1/2 cup water
1 cup Blue Band Margarine 
2 cups sugar
4 egg yolks
1 teaspoon vanilla
1 cup buttermilk
4 egg whites

Cake Directions:
Grease and lightly flour three 9×1-1/2-inch round cake pans; set aside.
In a mixing bowl, mix flour, soda, and salt.
In saucepan, heat, stir chocolate and water until chocolate melts. Remove from heat; cool.
In a large mixing bowl, beat margarine with an electric mixer for 30 seconds. Beat in the sugar until fluffy. Beat in egg yolks, one at a time, beating well after each. Beat in chocolate and vanilla.
Alternately add the flour mixture and the buttermilk, beating on low speed after each addition. Wash the beaters thoroughly.
In medium bowl with cleaned beaters, beat egg whites on high until stiff peaks form. Fold whites into batter. Divide the batter among the prepared cake pans.
Bake in a preheated 350 degree oven for 30 to 35 minutes or until a toothpick inserted into the centers comes out clean. Cool 10 minutes in pans on wire racks. Remove layers from pans; cool.
Chocolate Buttercream Frosting
Prep time: 2 mins Cook time: 3 mins Total time: 5 mins
Ingredients
1 cup Blue Band Margarine (2 sticks or ½ pound), softened (but not melted!)
3½ cups confectioners (powdered) sugar
½ cup cocoa powder
½ teaspoon table salt
2 teaspoons vanilla extract or 1 teaspoon almond extract
4 tablespoons milk or heavy cream
Instructions
Cream margarine for a few minutes in a mixer with the paddle attachment on medium speed. Turn off the mixer. Sift 3 cups powdered sugar and cocoa into the mixing bowl. Turn your mixer on the lowest speed (so the dry ingredients do not blow everywhere) until the sugar and cocoa are absorbed by the butter. Increase mixer speed to medium and add vanilla extract, salt, and milk/cream and beat for 3 minutes. If your frosting needs a more stiff consistency, add a little more sugar. If your frosting needs to be thinned out, add additional milk 1 tablespoon at a time.