Pastelle Pie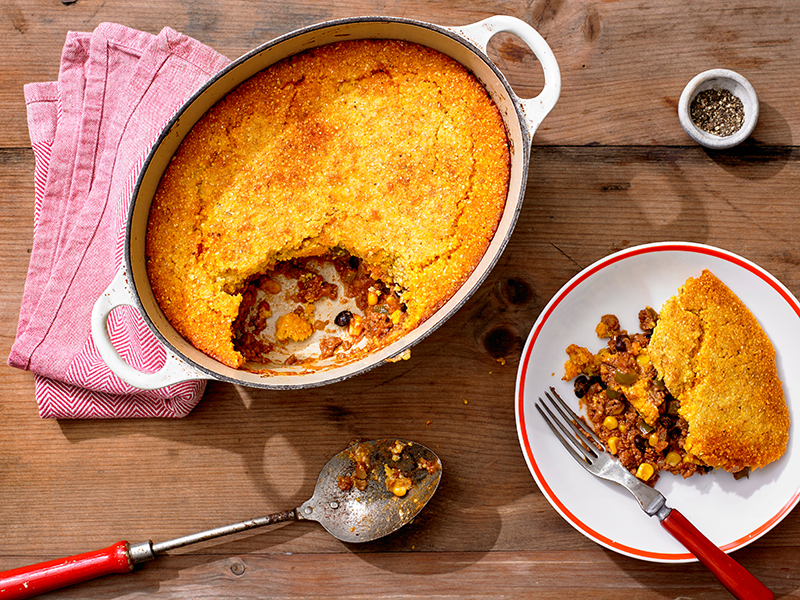 Meat Filling
1 lb minced meat*
3 tbsp Cuisine Soyabean Oil
3 large onions, roughly chopped
4 cloves of garlic, minced
4 tbsp thyme
2 tbsp onion powder
2 tbsp garlic powder
1 tbsp powdered clove
1 tbsp paprika
1 tbsp black pepper
3 tsp salt
2 tbsp brown sugar
½ cup roucou
¼ cup cliced olives
2 tbsp capers
½ cup Cuisine raisins
Salt (to taste)
Black pepper (to taste)
2 large Fig/ Banana leaves
*cooked lentils or minced chicken can be used
Cornmeal Layers
2 cups cornmeal
4 cups of water
1 tbsp Cuisine Soyabean Oil
Salt (to taste)
Meat Filling
1. In a large frying pan, heat Cuisine Soyabean Oil and add onions and garlic. Cook until soft.
2. Place minced meat into the pan. Add the thyme, onion powder, garlic powder, powdered clove, paprika, black pepper and salt. Cook until brown.
3. Add brown sugar and roucou.
4. Stir in olives, capers and Cuisine raisins.
5. Remove from heat and allow to cool.
Cornmeal Layers
1. Bring 4 cups of water to a rolling boil and add salt.
2. Using a whisk, stir the water while slowly streaming in the cornmeal.
3. Add soybean oil.
4. Cook until all the liquid is absorbed.
Assembly
1. Over an open flame, gently singe the banana leaves.
2. Line a 13-inch by 9-inch baking pan or casserole dish with the singed banana leaves.
3. Lightly brush the banana leaves with Cuisine Soyabean Oil.
4. Add the half of the cornmeal mixture to the dish and spread evenly.
5. Transfer the meat filling onto the cornmeal and pat down into an even layer.
6. Spoon the remaining cornmeal on top the meal filling and spread evenly with a spatula.
7. Place the remaining singed banana leaves on top.
8. Bake at 350ºF for 20 minutes.
9. Remove banana leaves from the top of the dish and bake in oven for another 10 minutes.
10. Allow to set for 20 minutes at room temperature. Cut into squares and serve.