Geera Chicken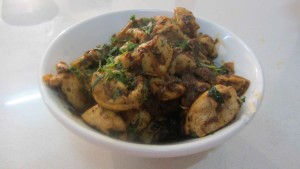 Ingredients
1 lb. Chicken
2 tbsp. geera
1 tbsp curry powder
4 cloves garlic, chopped
1 small onion, chopped
3 leaves chadon beni
1 sprig of chive
1 pimento
Thyme
1 hot Pepper (scotch bonnet)
Salt to taste
Directions:
Wash and season the meat with the salt. thyme, chadon beni,
onion, pimento, chive and 2 of the garlic cloves (chopped)
Add the curry. Mix thoroughly and leave to marinate for about an hour.
Sauté the other two cloves of garlic in some oil and add the meat.
Add the pepper.
Add water and allow meat to cook. When almost done, add the geera and mix well. It's that simple! Serve with roti or rice and Enjoy!