Healthy Granola (with sunflower seeds and raisins)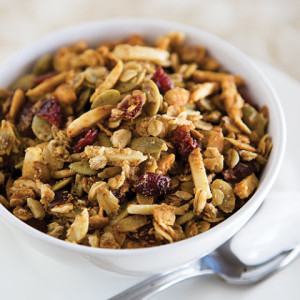 Ingredients:
2 cups old fashioned oats
1/3 cup sunflower seeds
1/3 cup sesame seeds
1 tsp vanilla extract
1 to 2 tsp ground cinnamon
2 tbs maple syrup
3 tbs coconut oil
1/2 cup coconut flakes
1/4 cup almonds, crushed
1/2 cup raisins
1/2 cup dried cranberries
(You can use just about any add-ins you can think of! Other good add-ins include dried figs, dried cherries, dried apples, walnuts, pistachios etc.)

Directions:
– Preheat oven to 250 degrees F.
– Pour all ingredients into a large bowl and mix well.
– Spread mixture on a baking sheet.
– Bake for 45 minutes (up to an hour) or until golden brown (stirring every 15 minutes).
– Let cool, then store in an air-tight container.

The longer you let the oats brown in the oven, the crunchier they will get.