Mustard & Panko Crusted Salmon Fillets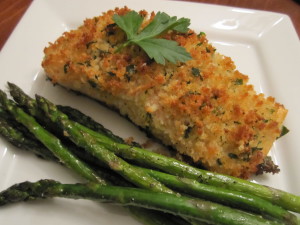 Serves 2, multiply as necessary
Ingredients
2 salmon fillets (6-8oz each)
Salt and freshly ground black pepper
1 cup panko breadcrumbs (also known as "Japanese style bread flakes")
1 teaspoon paprika (I like smoked paprika)
1/4 teaspoon cayenne pepper
1/4 cup good mustard (dijon, whole grain, yellow, honey mustard–use what you prefer)
Canola, grapeseed, olive, or coconut oil for cooking
Directions
Rinse the salmon fillets under cold water, then pat dry with paper towels. Season well on all sides with salt and freshly ground black pepper. Set aside.
In a shallow, wide bowl, whisk together the panko breadcrumbs with paprika, cayenne, salt, and freshly ground black pepper. Taste a pinch of the breadcrumbs to make sure they're well-seasoned and adjust accordingly.
Use a pastry brush or the back of a spoon to spread a layer of mustard (about 1/4 thick) all along the top of each salmon fillet.
Place the salmon fillet mustard-side down in the breadcrumbs and press down until it is evenly coated then lay skin-side down on a platter while you repeat with other fillet.
Heat a few tablespoons of oil in a medium-sized skillet over medium-high heat. You want just enough oil to coat the entire bottom of the pan. Heat for 2-3 minutes or until the oil is hot and starts to shimmer/tremble. Place the salmon fillets in the hot oil, panko-side down, for 1-2 minutes or until the panko becomes golden brown (lift it gently on its side after a minute to check the color). It should release easily; if it doesn't leave it for another 20-30 seconds. Use a spatula to flip the fish onto the skin side and let cook for 3-4 minutes or until the skin is crisp and the narrower parts of the fish are fully opaque and flaky. (If you like a well-done salmon, let it cook for another minute or two.)
Remove from the skillet and serve immediately. Is also lovely at room temperature as part of a buffet.