Peanut Butter Stuffed French Toast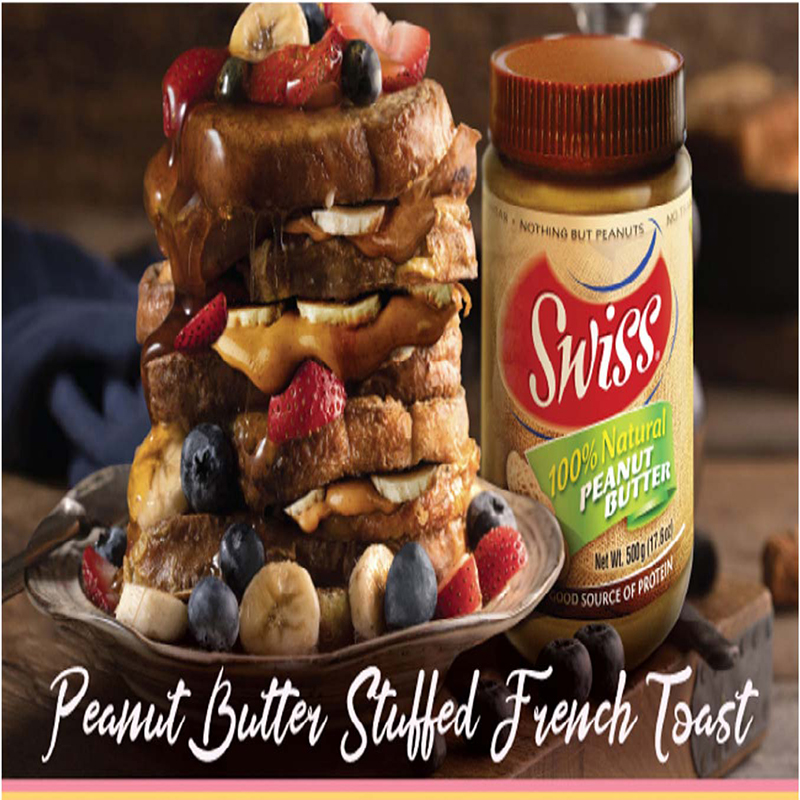 INGREDIENTS
1 cup              whole milk
1/4 cup          all-purpose flour
4                      eggs
2 tsp.               vanilla extract
1 tsp.               ground cinnamon
1/2 tsp.          ground nutmeg
1/4 tsp.          salt
1 tbsp.           sugar
12                   thick slices of bread (such as Texas toast)
12 tbsp.          Swiss natural peanut butter
maple syrup (optional)
powdered sugar (optional)
DIRECTIONS
Heat a griddle or frying pan over medium heat.
Whisk flour and milk together in a medium bowl until smooth.
Whisk in eggs, vanilla, cinnamon, nutmeg and salt.
Pour into a shallow pan or bowl that is wide enough for your bread.
Lightly oil or butter the hot griddle.
Dip bread slices in egg mixture letting sit for 15-30 seconds until mixture is absorbed.
Carefully transfer to griddle, letting excess egg mixture drip off.
Cook bread on each side until golden brown.
Spread a tablespoon of peanut butter on each slice of bread.
Serve as single slices or as a sandwich.
Drizzle with maple syrup and dust with powdered sugar if desired.