Passion Fruit & Mango Sorbet with Grilled Malibu Pineapple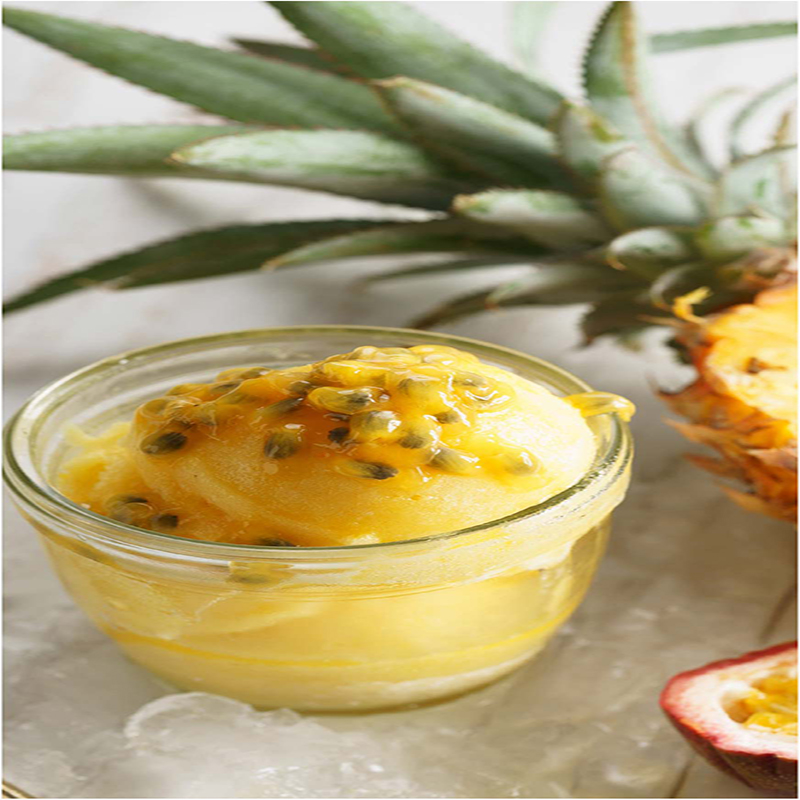 INGREDIENTS
Sorbet
3 cups (15 oz.)          mango, frozen
1                                  passion fruit
1/4 cup (2 1/2 oz.)  condensed milk
Grilled Pineapple
1/2                              ripe pineapple, peeled, cut into 12 slices
2 tbsp.                        Malibu (coconut liqueur)
1/2 cup (100g)          brown sugar, firmly packed
10 drops                     yellow food coloring (optional)
DIRECTIONS
Passion Fruit & Mango Sorbet:
Combine the mango, passion fruit and condensed milk in a food processor and process until smooth and creamy.
Transfer to a freezable container and let it firm up for about 4 hours.
Grilled Pineapple:
Preheat grill on high. Line a baking tray with foil. Place the pineapple in a single layer on the lined tray. Drizzle the Malibu over both sides of the pineapple.
Spread the brown sugar over a plate. Press both sides of the pineapple slices into the sugar to lightly coat. Place on the baking tray. Cook under grill for 5 minutes each side or until the sugar bubbles and caramelizes. Set aside.
Serve sorbet over grilled pineapple with toasted coconut if desired.