Trinidadian Pelau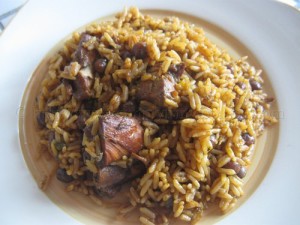 INGREDIENTS
4 packs  mixed packs chicken
2 Tbsp green seasoning
2 tsp grated garlic
1 Tbsp Worcestershire sauce
1 Tbsp soy sauce
1 Tbsp tomato ketchup
Salt and pepper to taste
2 Tbsp Cuisine Oil 
3 Tbsp brown sugar
2 cups parboiled rice, washed and drained
3/4 cup chopped onions
1/2 cup chopped sweet peppers
1 cup diced carrots (optional)
2 cans Cuisine Pigeon Peas 
2 cups Maggi Coconut Milk
2 cups water or reserved cooking liquid from peas.
1 whole scotch bonnet pepper
Salt and pepper to taste
1/2 cup sliced green onions (white and green parts)
Cook Time: 45 minutes
Marinate chicken: 120 minutes
PREPARATION
Add chicken, green seasoning, garlic, Worcestershire sauce, soy sauce and ketchup to a bowl along with salt and pepper to taste. Toss to mix and coat the chicken with the seasonings. Set aside and let marinate for at least an hour.
Pour oil into a large pot and place on medium high heat. Let oil heat until hot but not smoking.
Sprinkle sugar into heated oil in an even layer. Let the sugar melt until it starts to froth and bubble. As soon as the edges of the froth/bubbles starts to get a slight shade darker, immediately add the seasoned chicken and stir to mix and coat with the burnt sugar. Let cook for 7 – 10 minutes.
Add the rice to the pot, stir to mix and cook for 3 minutes.
Add peas, pepper and carrots (if using) and cook for 1 minute.
Pour in coconut milk and other cooking liquid. Season with salt and pepper to taste.
Toss in whole scotch bonnet pepper. Cover pot and bring to a boil.
When the pot comes to a boil, remove lid partially and let boil until you can see the surface of the dish – the rice, peas and chicken (about 7 – 8 minutes). Cover pot fully, reduce heat to low or simmer and let cook for 25 – 30 minutes or until all the liquid has evaporated.
Sprinkle the green onion on top and fold into Pelau.
Serve hot or at room temperature.