Spinach and Cheese Quiche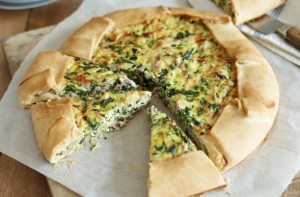 Prep time 10 mins
Cook time 25 mins
Total time 35 mins
Makes: 48 mini quiche
Ingredients
• 1 pie crust (pre-made refrigerator pie crust works great in a pinch!)
• Frozen chopped spinach or fresh (your choice)
• 1 16 oz container of cottage cheese
• 2 cups shredded cheese
• 4 eggs
• 1 bunch of green onions, chopped (whites only)
(Optional- Ham chunks)
Instructions
1. Place the pie crust in an ungreased pie plate or divided into the tins of a mini muffin tin and set aside.
2. Press and drain the spinach well.
3. In a large bowl, mix together the cottage cheese, shredded cheese, eggs and green onions and spinach and mix thoroughly.
4. Place into pie crust and bake at 325 degrees for 25 minutes for mini quiche or 40 minutes for larger quiche.