Chocolate-Peanut Butter Pudding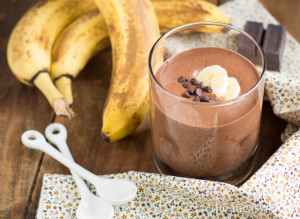 Ingredients:
 1/3 cup granulated sugar
2 tablespoons cornstarch
2 tablespoons Dutch process cocoa
1 1/2 cups 1% low-fat milk or full cream
1/2 cup light cream
2 ounces milk chocolate, finely chopped
1/4 cup creamy peanut butter
1 tablespoon chopped unsalted, dry-roasted peanuts
Preparation:
1. Combine sugar, cornstarch, and cocoa in a medium saucepan; stir with a whisk.
2. Whisk in milk and cream. Bring to a boil over medium-high heat.
3. Cook 1 minute or until thick and bubbly.
4. Remove from heat. Add chocolate and peanut butter, stirring until smooth. Spoon about 1/3 cup pudding into each of 6 bowls.
 5. Top each serving with 1/2 teaspoon peanuts