Spicy Corn Nuggets with Sweet Mango Sauce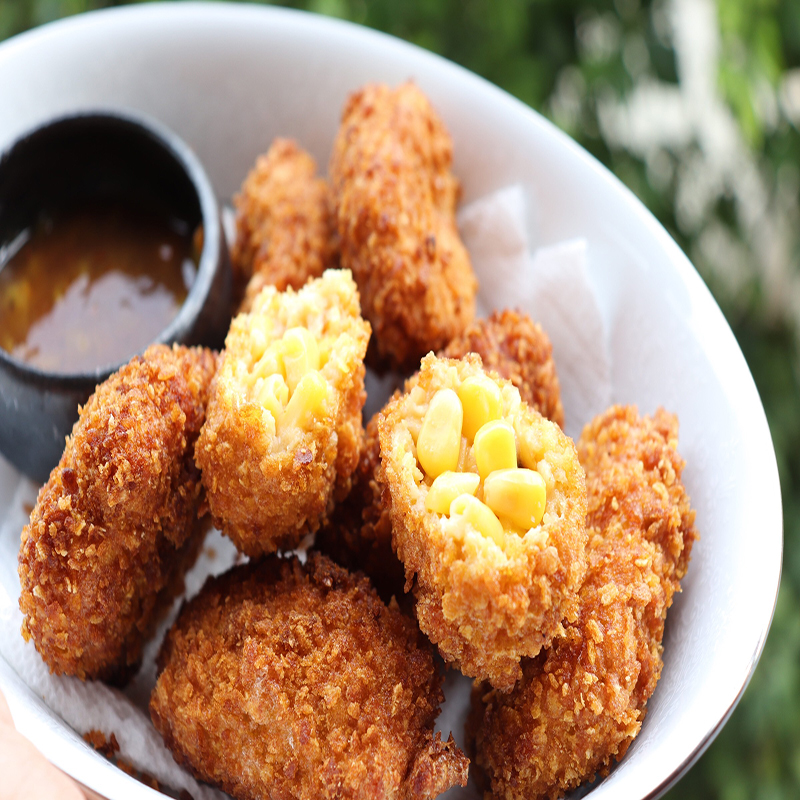 Makes 24 nuggets
Batter
1 can of Cuisine Whole Kernel Corn
½ can of Cuisine Cream Style Corn
1 cup of crushed corn flakes
1 tbsp of Cuisine Full Cream Milk
¼ cup of Cuisine All Purpose Flour
2 teaspoon of brown sugar
1 teaspoon of salt
1 teaspoon of red pepper flakes
1 teaspoon of minced pimento peppers
½ teaspoon of chili powder
1 egg white
Breading
2 cups of crushed corn flakes
2 eggs, beaten
3 cups of Cuisine Soyabean Oil for frying
Method:
Combine all of the batter ingredients into a large bowl and mix well.
Using a teaspoon, carefully spoon the batter onto a baking sheet lined with foil and greased well.
Place the baking tray into a freezer and allow to set for at least 45 minutes.
Heat oil to 300ºF .
Carefully dip the frozen batter into the beaten eggs, then into the crushed corn flakes and repeat a second time.
Place the nugget into the oil and fry until golden brown.
Sweet Mango Dip  
1 tablespoon Cuisine Souyabean oil
1/2 teaspoon red pepper flakes
1 medium onion, chopped medium
1/4 cup finely chopped peeled fresh ginger
1 clove garlic, minced
4 lbs mangos, chopped
1 1/2 cups sugar
3/4 cup distilled white vinegar
1/2 cup Cuisine Golden Raisins
1 teaspoon garam masala
1 teaspoon salt
1/2 teaspoon mustard seeds
Heat oil and chili flakes in a saucepan over medium heat. When oil starts to bubble around flakes add in onion and cook until softened, about 5 minutes, stirring often. Add in ginger and garlic and continue to cook until fragrant, about 1 minute.
Add mangos, sugar, vinegar, raisins, garam masala, salt, and mustard seeds to pan. Bring to a boil, reduce heat and simmer until mangos are softens and sauce is thick and syrupy.
Place in a large jar, allow to cool, cover and store in the refrigerator.