Oxtails Braised In Red Wine & Cocoa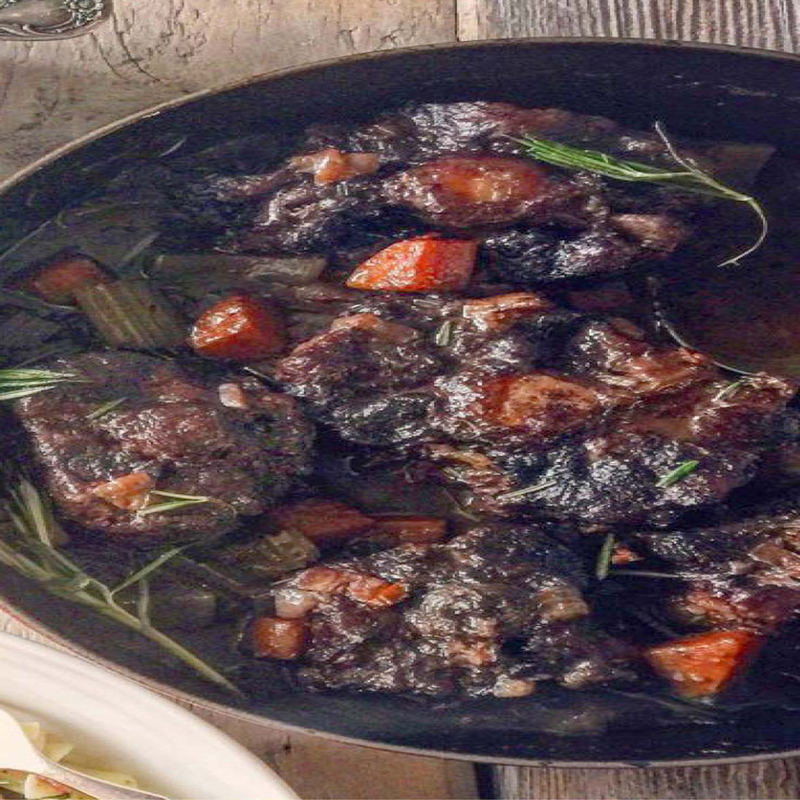 Chocolate has been a common ingredient in savoury cooking in certain parts of Europe and South America for thousands of years.
The flavour of cocoa powder or chocolate can be both rich and bitter and can add complexity to a variety of dishes, lending a silky texture with slight tart overtones.
This recipe for Oxtails braised in Red Wine & Cocoa is a melt-in-your-mouth meaty dish with rich complexity, a hint of sweetness, and a silky, seductive consistency.
INGREDIENTS
(Serves 6)
2 tbsp.                        olive oil
4 lb. (2kg)                  oxtails about 8-10 pieces
1                                 large onion diced
6                                 medium garlic cloves, minced
2                                 large carrots, diced
2                                 celery ribs, diced
3-4                              fresh rosemary sprigs, chopped to give you 2 tbsp. worth or 2 tsp. dried
1/2 cup                      sun dried tomatoes in oil, chopped
2 cups                        dry red wine
3/4 cup (200ml)      beef stock or broth
2 tbsp.                        butter, softened
2 tbsp.                        all-purpose flour
2 tbsp.                        raw cocoa powder
DIRECTIONS
Heat the oil in a large wide pan or braiser over medium high.
Add the oxtails in one layer (work in batches if necessary, although, in the end they should all fit at the same time) and sear on each side untill well browned (about 5 minutes per side). Remove to a plate. Adjust heat if searing too quickly or starting to char.
Reduce the heat to medium and add the onions and garlic to the pan. Stir to coat in any remaining fat and cook for about 1 minute.
Add the carrots and celery. Stir and cook untill just starting to soften, about 4-5 minutes.
Nestle the meat back into the vegetables, so that they all fit in one layer.
Sprinkle with the rosemary and sun dried tomatoes.
Add the wine and beef stock and bring up to a boil.
Cover with a lid and reduce the heat to low. You want a gentle bubble, a low simmer, but with regular bubbling going on.
Cook for about 3 hours or until the meat is very tender.
Remove the meat from the sauce to a plate.
Combine the butter, flour and cocoa powder in a small bowl. Mash with a fork until you have formed a paste.
Add this paste to the liquid and bring up to a boil.
Cook until starting to thicken nicely. Season with kosher salt and cracked black pepper.