Microwave Milk Barfi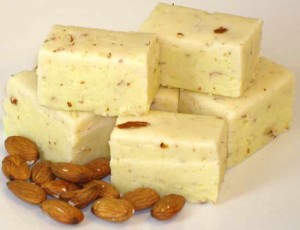 INGREDIENTS
2 cups full cream milk powder
300 ml thickened/ double/ heavy cream
1 400 can of condensed milk
1/2 cup finely chopped almonds
Prep Time: 0 minutes
Cook Time: 12 minutes
Total Time: 12 minutes
PREPARATION
Mix all the ingredients (except the nuts) in a rectangular microwave safe bowl and whisk till smooth.
Put the bowl in the microwave and set the time for 6 minutes on the High setting. Start and run the microwave. Watch the dish carefully and if the mixture looks like it might boil over, stop immediately and wait for 8-10 seconds. Start again and run till the 6-minute time is up.
Take the dish out of the microwave and stir well to break all lumps (these lumps are the milk solids that are beginning to form due to the cooking).
Put the dish back in the microwave and set again on high for 6 minutes. Watch for the initial minute and then allow to continue cooking. When the time is up, sprinkle the chopped nuts over the surface of the Barfi and let sit/ rest for 10 minutes.
After 10 minutes remove from the microwave and cut into 2 to 2 1/2-inch squares. Serve immediately or after cooling to room temperature.
Important: This time and High setting suggestion is for a 900-watt microwave. Adjust timing and setting to suit the wattage of your microwave.