Curried Bananas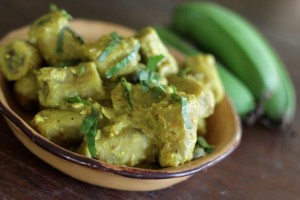 INGREDIENTS:
DIRECTIONS:
Directions:
In heavy skillet, melt butter over medium heat.
Add bananas cut or broken into 2″ pieces. Cook 2 to 4 minutes. Carefully turn.
Sprinkle with brown sugar and curry powder. Cook 2 to 4 minutes.
The bananas should be soft and warmed through, and there should be a sauce in the bottom.
N.B. Don't overcrowd the pan; you need to be able to turn the banana pieces without mashing them.
Serve with Roti or Basmati rice and enjoy!