Kibbeh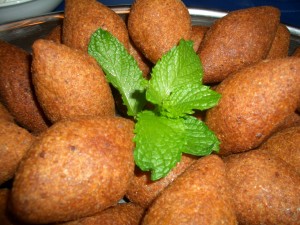 Ingredients:
3/4 cup,150g Bulgur wheat/cracked wheat, fine
250g minced meat on sale at Massy Stores for $32.96 per Kg
50g onion (1/2 of a medium onion)
12 mint leaves
1/2 tsp salt
1/2 tsp Black pepper powder
1/4 tsp cinnamon powder
1/2 tsp cumin powder
For the Stuffing:
2 tbs vegetable/olive oil
100g, 1 medium size onion, chopped
250g minced meat
1/2 of Maggi stock cube, crumbled
1/4 tsp garam masala
10 mint leaves
1 1/2 tbs almonds (blanched, peeled, chopped and toasted until golden), can use toasted pine nuts as well
1/4 tsp cumin powder
1/4 tsp cinnamon powder
2 green chilli chopped (Optional)
Vegetable oil for deep frying
Method
1. Wash bulgar and drain then cover and set it aside for 1 hour.
2. Combine in a mixing bowl the prepared bulgar, minced beef, onion, mint, salt and spices. Place this mixture in a processor and process by adding just enough water (I added 10 tablespoons of water) to allow the mixture to come together and form into a coarse dough that can be shaped into balls. Cover and set in the fridge.
3. Meanwhile prepare the stuffing. For that, heat oil in a pan, add onion and cook until tender. Add the minced lamb and stir until cooked and brown in color. Add the crumbled MAGGI® chicken Bouillon cube, garam masala, almonds, mint and spices and stir to combine well and cook for a couple of minutes.
4. Divide the kibbeh dough into 12-13 balls.. With wet hands take a ball and form it into an oval shape, Just like the shape of an egg. Make a space (hole) in the center by pushing your finger through from one end.. Make a hole big enough so that a teaspoon can be inserted into it. this can be done by pushing the finger into the dough several times to make the space bigger.
5. Add a teaspoonful of stuffing (cooked mixture), close by pressing firmly.
6. Fry the kibbeh in hot deep oil until golden brown.
7. Serve hot with green salad and fresh yogurt.
Recipe Courtesy: www.nestle-family.com