Fried Mac and Cheese Bites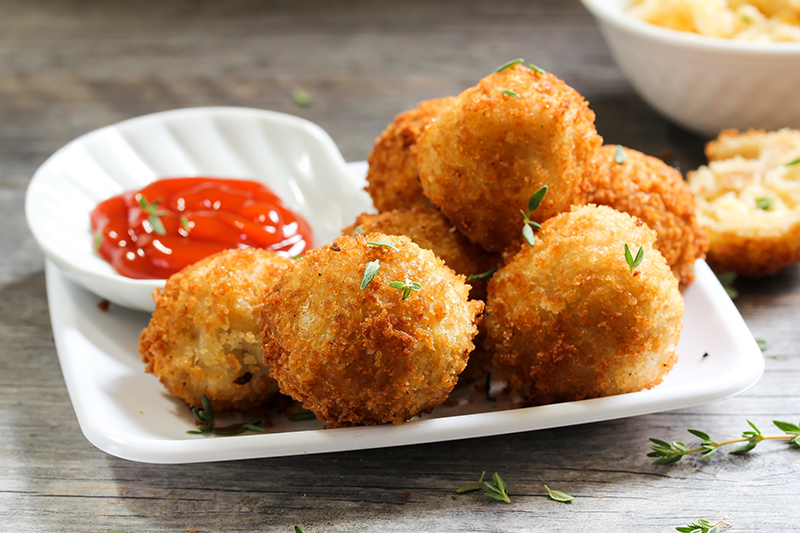 Ingredients:
3 Cups Of Cuisine Elbow Macaroni, Boiled And Drained
1 Cup Of Heavy Cream
1 Cup Of Grated Cheddar Cheese
2 Oz Of Butter
Black Pepper, To Taste
2 Eggs
1 Cup Flour
1 Cup Of Breadcrumbs
Oil For Deep-frying
Method:
1. Place Boiled Macaroni Into A Large Baking Dish.
2. In A Medium Saucepan, Heat Heavy Cream Just Until The Liquid Begins To Steam.
3. Stir In The Grated Cheese And Butter.
4. Pour The Cream And Cheese Mixture Onto The Macaroni And Toss To Coat The Macaroni.
5. Allow To Cool, Then Refrigerate For Three Hours.
6. Scoop The Macaroni Out, One Tablespoon At A Time, And Form Into Balls.
7. Freeze For 30 Minutes.
8. While The Macaroni Balls Are Freezing, Set Up The Breading Station As Follows: In A Small Bowl, Beat Eggs And Set Aside. Place Flour And Breadcrumbs In Two Separate Bowls, Respectively. Heat Oil To 320ºf.
9. Roll The Frozen Macaroni Ball Into The Flour, Then Dip Into The Egg And Toss In Breadcrumbs.
10. Fry Until Golden Brown.
11. Place On Paper Towel To Drain Before Serving Hot.