Crepes with Pineapple Filling & Coconut Whipped Cream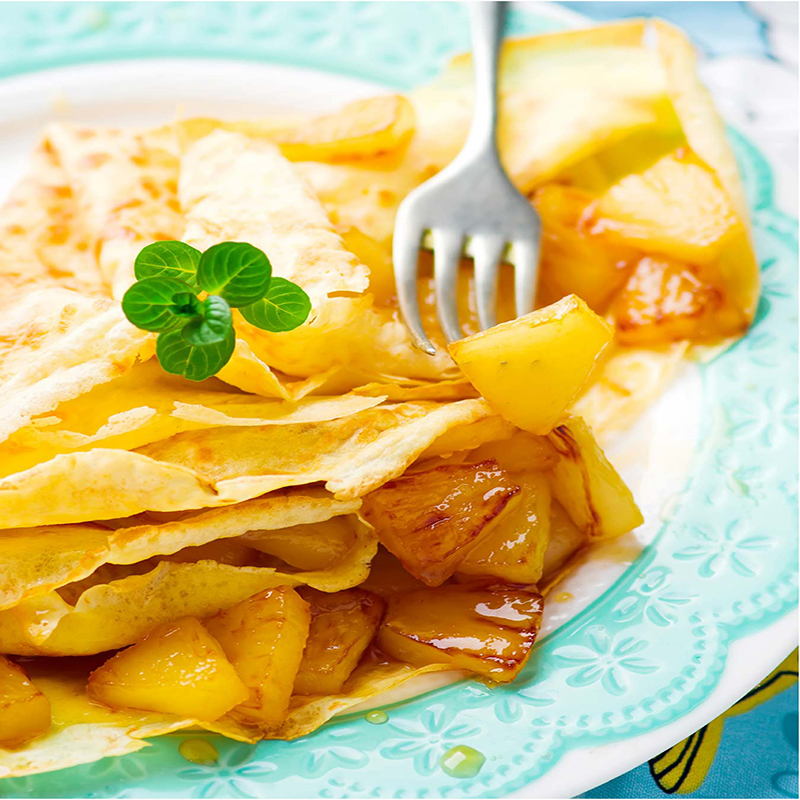 INGREDIENTS
Filling
1/2 cup          caster sugar
1/4 cup          shredded coconut, toasted
1/2                 medium pineapple, peeled, cored, thinly sliced lengthways
Basic Crepes
1 cup             Cuisine All-Purpose Flour
2 cups           milk
3                     eggs
olive oil spray
Coconut Whipped Cream
1 (14 oz.)   can coconut cream or full fat coconut milk
1/4 – 3/4 cup  icing/powdered sugar
1/2 tsp.  vanilla extract
DIRECTIONS
Filling:
Combine sugar and 1/2 cup cold water in a saucepan over low heat. Cook, stirring occasionally, for 3 to 4 minutes or until sugar has dissolved.
Heat a non-stick frying pan over medium-high heat. Cook pineapple in batches, brushing with sugar mixture, for 4 to 5 minutes or until lightly browned.
Basic Crepes:
Sift flour into a bowl. Whisk milk and eggs together in a jug. Add milk mixture to flour. Whisk until well combined.
Spray a medium, non-stick frying pan with oil. Heat over medium heat. Pour 2 1/2 tablespoons batter into pan. Swirl to cover base. Cook for 2 to 3 minutes or until light golden. Turn over and cook for 1 minute. Transfer to a plate. Cover to keep warm. Repeat with remaining batter.
Cut pineapple into chunks and place a heaping tablespoon into each crepe. Roll up to enclose pineapple. Cut in half. Serve with coconut whipped cream and toasted coconut.
Coconut Whipped Cream:
Chill the coconut cream or coconut milk in the refrigerator overnight.
The next day, chill a large mixing bowl 10 minutes before whipping.
Remove the coconut cream or milk from the fridge without tipping or shaking and remove the lid. Scrape out the top, thickened cream and leave the liquid behind (reserve for use in smoothies).
Place hardened cream in your chilled mixing bowl. Beat for 30 seconds with a mixer until creamy. Then add vanilla and powdered sugar and mix until creamy and smooth – about 1 minute. Taste and adjust sweetness as needed.
Use immediately or refrigerate – it will harden and set in the fridge the longer it's chilled. Will keep for up to 1 – 2 weeks.