Tuna Patties with Fresh Tartar Sauce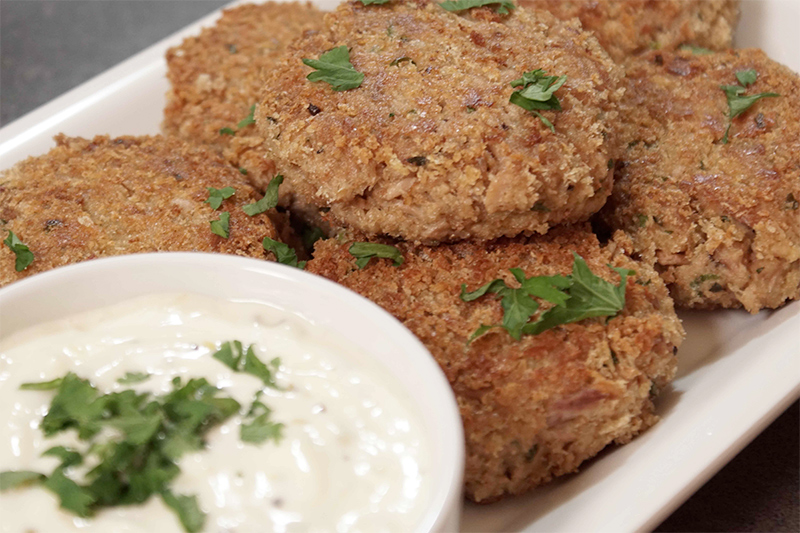 This recipe for Tuna Patties is quick and easy and is a great way to use Cuisine's Tuna Chunks in Water. Not only is this recipe delicious, but it is also infinitely adaptable!
Perfect with rice, pasta, in burger bread or make mini patties for a satisfying appetizer! Cuisine Tuna Chunks in Water is available at all Massy Stores, nationwide.
Yield, 6 patties, 6oz each
Ingredients:
Tuna Patties
3 cans of Cuisine Tuna Chunks in Water, drained
3 eggs
2 cups + 1 cup of bread crumbs (crushed Crix or Panko breadcrumbs can be used)
½ cup of grated cheese (cheddar, parmesan or mozzarella can work)
1 lime, juiced
3 tsp of fresh shadon beni (finely chopped)
3 tsp of fresh chive (finely chopped)
1 tsp of fresh parsley
4 sprigs of fresh thyme
2 tsp garlic powder
2 tsp of black pepper
Salt, to taste
Pepper sauce, to taste
Olive oil/ Vegetable oil for shallow pan-frying
Method:
In a medium sized bowl, add 1 cup of breadcrumbs and season with salt and black pepper. Set aside.
In a large bowl, combine the tuna, eggs, remaining 2 cups of bread crumbs, onions, lime juice, shadon beni, chive, thyme, parsley, garlic powder, Worcestershire sauce, black pepper, pepper sauce and salt.
Work the ingredients together until a firm paste is formed.
Divide the tuna mixture into 6 equal parts and form into patties.
Gently coat the tuna patties in the seasoned bread crumbs.
Heat oil in a frying pan and carefully add the coated patties to the pan.
Fry on each side until golden brown.
Remove from oil and drain on paper towel.
Tartar Sauce
½ cup of mayonnaise
2 tsp of sweet relish
3 tsp of lemon juice
Salt and black pepper (to taste)
Method:
Combine ingredients and serve alongside the tuna patties.