Rum Fruit Cake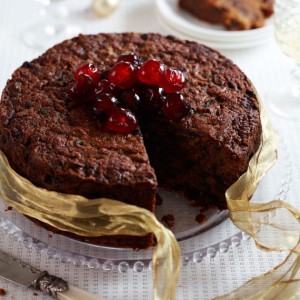 INGREDIENTS:
1/8 cup chopped Maraschino cherries
1/8 cup chopped dried or candied fruit
1/4 cup dried cranberries
1/4 cup dried currants
2 tablespoons chopped candied lemon
1/4 cup dark rum
1/2 cup butter
1/4 cup packed brown sugar
1 egg
1/2 cup all-purpose flour
1/8 teaspoon baking soda
1/4 teaspoon salt
1/4 teaspoon ground cinnamon
1/4 cup unsulfured molasses
2 tablespoons milk
1/4 cup chopped pecans
1/4 cup dark rum, divided
DIRECTIONS
Start by soaking the cherries, mango, cranberries, currants, and lemon by covering them in a bowl with in 1/4 cup of rum. Cover tightly and let the mixture sit for at least 24 hours in room temperature.
Preheat oven to 325 degrees F (165 degrees C).
Butter a 6×3 inch round pan (or a small loaf pan if you don't have a round one) and line with parchment paper.
In a large bowl, cream together butter and brown sugar until fluffy. Beat in egg until nicely mixed together.
Mix together flour, baking soda, salt, and cinnamon and add to the butter and sugar mixture in three batches, with alternatively adding molasses and milk.
Stir in soaked fruit and chopped nuts.
Transfer batter into prepared pan.
Bake in preheated oven for 40 to 45 minutes
Cool in the pan for 10 minutes, then sprinkle with 2 tablespoons rum.
Cut out one piece parchment paper and one piece cheesecloth, each large enough to wrap around the cake. Moisten cheesecloth with 1 tablespoon rum. Arrange cheesecloth on top of parchment paper, and unmold cake onto it. Sprinkle top and sides of cake with remaining rum. Wrap the cheesecloth closely to the surface of the cake, then wrap with paper. Place in an airtight tin.
This cake is great if you age it for a while – you could make it as far ahead as 10-12 weeks – but it will be just as good in a week!