Pholourie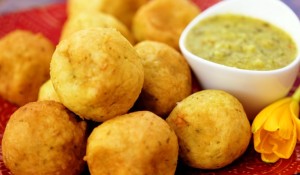 INGREDIENTS:
2 cups split peas powder
1/2 cup flour
1 clove garlic, finely minced/pureed
1- 1/2 teaspoon salt
black pepper
1 teaspoon saffron powder or 2 tsp curry powder
2 teaspoons baking powder
oil for deep frying
METHOD:
Mix split peas powder with all ingredients except water.
Add enough water to make a thick batter. Let rest for 1 hour.
Heat oil in heavy pot.
Drop batter, a teaspoon at a time into the hot oil, and let cook until puffed and golden brown.
Serve with a chutney sauce or a peppery tamarind sauce. I made a killer sauce by combining equal parts mango chutney and water and pureeing them with 1 clove of garlic. This is the consistency of pholourie sauce that one usually gets when purchasing locally on the roadside.