Geera Pork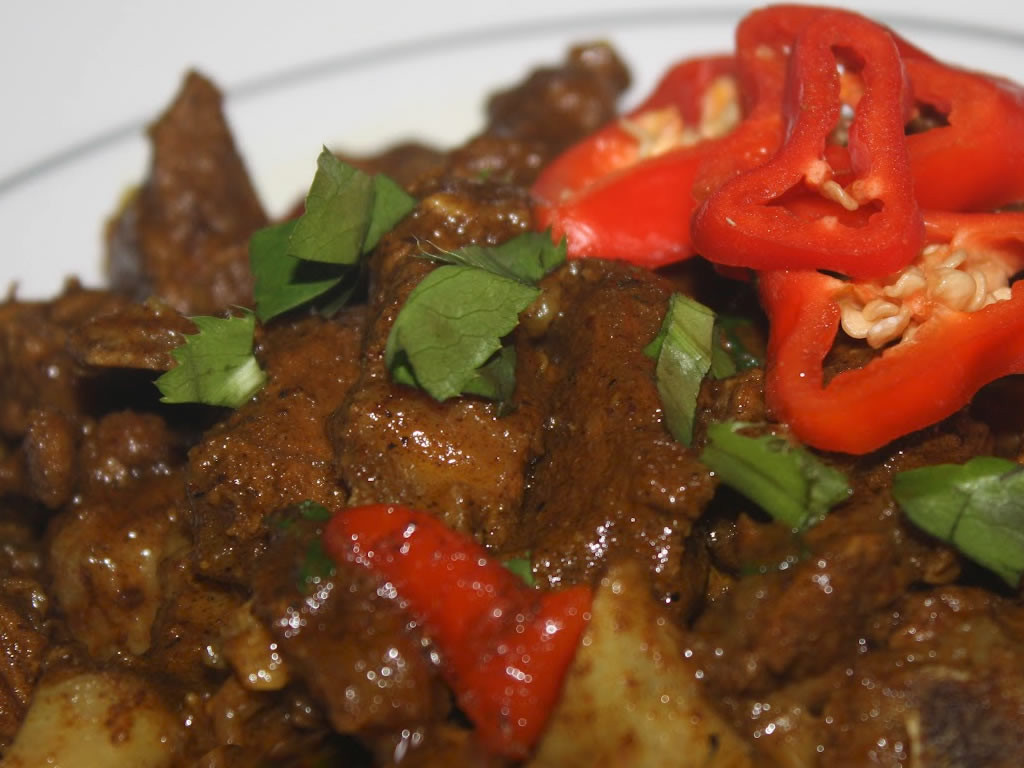 Ingredients
2 – 3 lbs pork, cut in chunks
(we use a mix of pork leg and pork loin)
2 – 3 limes
5 – 6 blades shadon beni, chopped
3 – 4 sprigs small thyme leaves
1 small bundle of chive, chopped
4 pimento peppers, seeded and chopped
5 – 6 large cloves garlic, chopped
1 large onion, chopped
Few dashes soy sauce
1½ tbsp curry powder
2 tbsp paprika
1 tbsp salt
4 tbsp roasted geera powder
1 tbsp whole geera seeds
1 hot pepper, halved
2 extra cloves garlic, chopped
3 tbsp oil
1 tbsp extra roasted geera powder
Directions
Soak and wash pork in lime water (juice and lime halves from 2 of the limes) for 5 – 10 minutes and drain.

Add the shadon beni, thyme, chive, pimento peppers, garlic, onion, soy sauce, curry powder, paprika, 1 tbsp roasted geera, salt and juice from remaining lime. Mix well ensuring the seasoning is well distributed through the pork. Let marinate for at least 2 hours or overnight.

Heat the oil in a large pot over medium high heat.

Add the whole geera seeds, the remaining 2 cloves garlic and half the hot pepper. Let cook for 1 minute. Add the 3 tbsp roasted geera and cook for another 1 – 2 minutes.

Add the pork and mix so the geera is well mixed into the pork. Let cook for a few minutes. Add enough water just to cover the pork and the remaining pepper. Let cook down until the liquid has reduced by more that half, approximately 15 – 20 minutes. Add the extra 1 tbsp geera powder. Mix and continue to cook for another 5 – 10 minutes.

Taste and adjust seasoning if necessary. Serve.