Curried Goat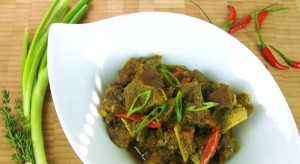 Ingredients:
1 lb goat meat, cubed
1 lime
1 onion, chopped
2 tbsp green seasoning
4 tsp masala
2 tbsp curry
1/2 tsp saffron
4 cloves garlic
7 leaves cilantro, chopped
4 sprigs chive, chopped
1 tbsp soy sauce (optional)
1 tbsp coconut powder
Salt to taste
Pepper to taste
Directions:
Wash the meat with the lime and drain. Add salt to taste
Add the green seasoning, 2 tsp masala, saffron powder, 1 tbsp curry powder, onion, two cloves of chopped garlic, cilantro and chive. Mix well. Leave to marinate for at least one hour.
Heat the oil and sauté the other 2 cloves of chopped garlic
In about 1/2 cup of water, mix 2 tsp of masala and 1 tbsp of curry powder. Add to the sautéed garlic and allow to cook for about one minute.
Add the marinated goat and mix in the curry thoroughly.
Then add the soy sauce (optional)
Allow to cook for about 5 minutes or when you see the water is drying down.
Add the coconut powder. Then add enough water to cover the meat and pressure cook for 15 minutes.
After about 15 minutes check the meat for tenderness. By this time it should be about half done. Top up with water and pressure cook for another 15 minutes or until the water has evaporated