Crispy Skin Pork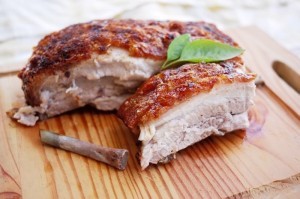 Crispy Skin Pork, or as we Trinis say "Cripsy" skin pork, is a signature dish that is sure to be a hit at any lime
This is what we call pork done right!
So whether you're heading Pan, having a house lime of just feeling to throw down in the kitchen, Head to Massy stores to get all the right ingredients to prepare this delicious meal.
Time taken to prepare: 3 hours 25 minutes
Serves: 8
INGREDIENTS:
1/4 cup olive oil
2 tablespoons salt
6 garlic cloves, sliced
1 1/2 cups beef stock
2kg Pork Belly
DIRECTIONS:
Preheat oven to 180C (160C fan-forced).
Score pork skin. Rub in half the oil and salt, pressing salt into scored skin. Place pork, skin side down, in a large roasting pan. Bake for 1 1/2 hrs.
Turn pork, skin side up. Increase oven temperature to 220C. Bake for 45 minutes, until skin is crisp. Remove from oven. Rest pork for 10 minutes. Cut, serve and enjoy!