Creepy Fingers Almond Shortbread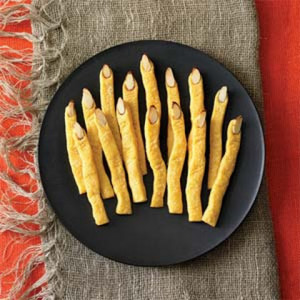 Ingredients
1 cup butter
1/2 cup white sugar
2 teaspoons almond extract
2 1/2 cups sifted all-purpose flour
1/3 cup granulated sugar for decoration
Directions
In a large bowl, beat butter with 1/2 cup sugar and almond extract until light and fluffy. With wooden spoon, stir in flour until smooth and well combined. Divide dough into 2 parts. Refrigerate, covered for 2 hours.
Preheat oven 300 degrees F (150 degrees C).
On lightly sugared surface, roll out dough, one part at a time, about 1/2 inch thick. Using a 1 1/2 inch round cookie cutter, cut out cookies. Place 1 inch apart, on ungreased cookie sheet. With end of wooden spoon, or cookie press, make an indentation in center of each cookie.
Bake 25 to 30 minutes, or until light golden brown around the edges. While still warm, roll in sugar. Cool completely on a wire rack.