Banana Bread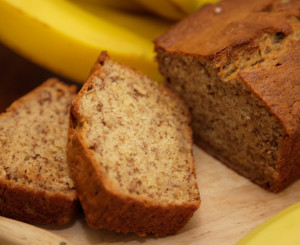 Ingredients
 1 cup butter, softened
1 cup brown sugar
2 eggs
3 overripe bananas, mashed
1/2 teaspoon vanilla extract
2 cups all-purpose flour
1/2 teaspoon salt
2 teaspoons baking soda
1/2 teaspoon ground cinnamon
1/8 teaspoon nutmeg
1/2 cup chopped pecans
Directions:
 Preheat oven to 325. Grease a 9″ x 5″ loaf pan.
In a large mixing bowl, beat together butter and brown sugar until creamed. Beat in eggs, mashed bananas, and vanilla until creamy.
In a separate bowl, combine flour, salt, baking soda, cinnamon and nutmeg. Gradually add the dry mixture into creamed mixture and mix well. Batter will get thick.
Stir in chopped pecans.
Pour into greased loaf pan. Bake at 325 for 70-80 minutes.
Makes 1 loaf.