Steak Sub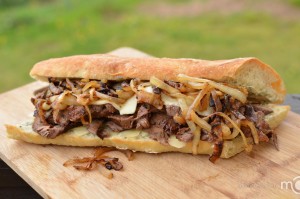 Time taken to prepare: 1 hour 30 minutes
Serves: 4
Ingredients
1 large peeled and sliced onion
1 8-oz package button mushrooms
3 tablespoons butter
4 tablespoons extra virgin olive oil
Pinch of sugar
1/8 cup bourbon
Pinch of salt
Black pepper
1 pound shaved steak
4 slices of cheese
4 Sub rolls
Instructions
In a medium skillet over medium heat, melt one tablespoon of butter with one tablespoon of extra virgin olive oil. Place the onion slices into the pan and slowly sauté for 15-20 minutes until browned and caramelized, stirring and flipping occasionally.
Add a pinch of salt, a few grinds of black pepper and a large pinch of sugar and stir to combine. Cook on low for another 5 minutes. Remove from heat.
While onions are cooking, heat a large skillet over high heat with one tablespoon of butter and one tablespoon of oil. (Mushrooms will be cooked in two batches). Once butter mixture is hot, place half the mushrooms in and stir. Cook for 2-3 minutes and flip each slice and cook for another 2 minutes. Repeat with the last of the oil and butter and second half of mushrooms.
When the second batch of mushrooms are cooked, add first batch in with second batch and pull pan from burner. Add in bourbon and slowly place back on flame. The mixture should flame up and then burn off the alcohol. Season with salt and pepper and remove from heat.
At this point you can add cooked mushrooms in with the cooked onions and reuse the large skillet to cook the steak.
Heat large skillet over medium high heat and add one tablespoon of olive oil. Add in steak and with two wooden spoons, pull steak apart and turn and cook for 2-3 minutes until cooked through. Season with a little more salt and pepper.
Add onions and mushrooms to the steak, stir to combine and turn off heat. Place cheese over the steak mixture and cover pan to melt the cheese, about one minute.
Spread your preferred condiments on the Sub roll. With a spatula slide a serving of the steak and cheese mixture onto each roll and enjoy!