30-Minute Chicken Tikka Masala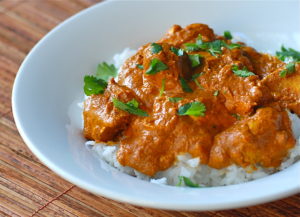 Ingredients:
¼ cup coconut oil (or olive oil), divided

1 lb. Simple Truth Boneless Chicken Breasts chopped into ½-inch to 1-inch cubes

1 medium yellow onion, chopped

3 cloves garlic, minced

1 Tbsp. fresh ginger, peeled and grated

1 (14.5-oz) can Diced Tomatoes, drained

1 Tbsp. Tomato Paste

1-1/2 tsp. cumin seeds

1 tsp. ground coriander

1 tsp. paprika

½ tsp. cayenne pepper, optional

½ tsp. sea salt, to taste

1/8 tsp. ground cloves

1/8 tsp. ground cardamom

1 tsp. honey or pure maple syrup

1 cinnamon stick

1 Tbsp. fresh lime juice or cider vinegar

1 cup full-fat canned coconut milk (or heavy cream)

Cooked quinoa or rice and fresh cilantro for serving
Directions:
Heat 2 tablespoons of the coconut oil over medium-high in a non-stick skillet. Add the chopped chicken and brown 3-5 minutes, until juices have released, but meat is not cooked through. Drain the chicken of the juices and transfer the chicken to a bowl.
Wipe out the skillet using a paper towel and return to the stovetop over medium-high heat. Add the remaining 2 tablespoons of coconut oil, along with the chopped onion. Cook, stirring occasionally, until onion is translucent, about 5 minutes. Add the garlic and ginger and cook another 2 minutes, stirring frequently.
Reduce the heat to medium-low, and add the diced tomatoes, tomato paste, garam masala, cumin seeds, coriander, paprika, cayenne pepper, salt and pure maple syrup. Cook covered for 5-8 minutes, stirring occasionally.
Transfer this mixture to a blender along with the coconut milk (or cream) and blend until completely smooth. Return sauce to the skillet along with the chicken, cinnamon stick and lime juice and bring everything to a gentle boil. Reduce heat, cover, and simmer 5-8 minutes, until chicken is cooked through. Taste the tikka masala for flavour and add sea salt to taste.
Serve chicken tikka masala over cooked quinoa or rice with fresh cilantro.